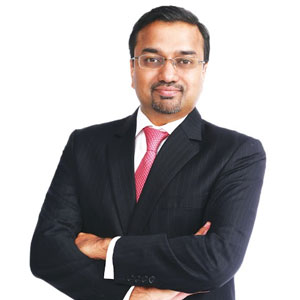 Sandeep Bagaria, CEO
As adoption of smartphones gains momentum, digitisation in banking sector is inevitable to catch up with increasing customer expectations. Digitisation reduces human errors, increases convenience by speeding up business transactions, and provides faster ROI. Tagit was quick to grab this opportunity and designs and develops industry-specific digital solutions for companies across the word. It has received accolades across industries and has been ranked as a leader in mobile banking solutions in 2015 by Forrester Research.
Incorporated in 2004, Tagit conceptualises digital strategy from the ground up. It delivers tangible results based on three core values—Technology, Innovation, and User Experience. The company since its inception understood that large enterprises find it difficult to connect their backend systems with end-user devices and other digital channels. Tagit solves this problem with its flagship digital platform— Mobeix. Easy to connect tools integrated into Mobeix, create active link between backend systems and Mobeix platform. It allows Mobeix to extract meaningful data and use them for further processing securely. Discussing the unique platform, Sandeep Bagaria, CEO, says, "The platform seamlessly integrates client's IT assets to render mobility solutions across multiple mobile devices and operating systems." It also minimises complexities and speeds up time-to-market. The Mobeix platform is compliant with Application Data Security Standard Version 2.0.
Front-end Mobeix app editor makes mobile-app development a drag and drop affair. Interestingly, Mobeix is built from a single code base, which is compiled for various mobile platforms such as iOS, Android, Windows etc. This unique feature helps a customer cut down on repetitive task of developing applications for different platforms. Additionally, Tagit's platform allows simple changes to the app without any re-compilation.
Tagit delivers tangible results based on three core values—Technology, Innovation, and User Experience
Using Over-the-Air (OTA) updates, it allows clients to modify UX elements in their mobile applications directly from their servers without their customers having to download an upgrade to the App from the App store. Mobeix enables banks and other enterprises from various industries to rapidly build secure, scalable, and innovative mobile applications.
Innovation at Tagit is about using technology to deliver business value to its clients. When one of the banks wanted to use digital banking to create awareness of its property mortgage solutions among targeted customers, Tagit offered an innovative solution based on Augmented Reality (AR). Users could simply open the camera in the property app and scan buildings around them. They would be presented interactive property data such as houses available for sale, price comparisons, and nearby facilities along with their ability to take on a mortgage. The solution helped promote bank's mortgage business among such prospective buyers, leading to an increase in their mortgage leads.
In its solutions, Tagit places utmost importance on User Experience (UX). It blends contemporary user interfaces with intuitive designs to allow users to follow a simple, yet powerful, workflow. User experience involves using both technology and visual design to enhance the customer experience. For one of its customers, Tagit used facial recognition as a means of authentication leading to "selfibanking" while at another it used location based services to offer the relevant services and products to customers. Visual design is used to make the app more engaging and customers are able to personalise the apps to suit their usage. With intuitive design, customers can easily perform their favorite transactions making the mobile app as their preferred medium of engagement with the Banks.
So far, the Singapore-based company has served several leading financial institutions across Asia, the Middle-East, and North America. Tagit has won multiple awards including the Emerging Enterprise Award in Singapore, and has been accredited with the Infocomm and Media Authority (IMDA) of Singapore. Similarly, Tagit's customers have received numerous awards at various industry forms for their digital offerings developed by Tagit. This has made Tagit a trusted partner by many enterprises around the world to deliver best-in-class user experience (UX) and innovative solutions built on a secure and scalable mobile platform. Retaining this approach, Tagit intends to have unprecedented growth in future.