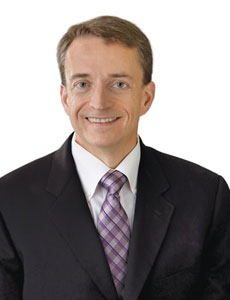 Pat Gelsinger, CEO
The team at Airwatch initially started off as a company managing wireless endpoints and rugged devices. But the instantaneous growth of smart devices triggered the leadership team to change gear and strategically pivot the company's focus to management of mobile devices, including apps and data on the device. AirWatch was founded in 2003 as Wandering Wi-Fi by John Marshall, who served as President and CEO. By the year 2016, AirWatch secured one of the largest Series A funding rounds in history at 200 million dollar. One year later, AirWatch was acquired by VMware for 1.54 billion dollar. Today, with the combined power of AirWatch and VMware, organisations now have access to a complete solution that enables true business transformation. VMware AirWatch is transforming the face of EMM system with its world-class solutions and has its impact felt across the globe. "VMware AirWatch provides best-in-class, secure, enterprise mobile management service to thousands of businesses around the world," says Pat Gelsinger, CEO, VMware.
In today's age, Enterprise mobility has proved to be an opportunity for organisational transformation. The need for anytime, anywhere access to corporate information and the growing popularity of smart devices usage to bring out new business opportunities and reduce operating cost are driving companies to implement an enterprise solution across industry verticals through consumerisation of mobility. Besides, as enterprise mobility today has become increasingly complex, companies' requirements towards protecting data and supporting users are turned out to be more difficult to meet as well. To meet this dire need of firms, global Enterprise Mobility Management (EMM) solution provider VMware Airwatch [NYSE: VMW] kicked off BYOD program by letting their customers utilise employee-owned devices to access corporate resources.
VMware AirWatch provides best-in-class, secure, enterprise mobile management service to thousands of businesses around the world
VMware AirWatch helps organisations in deploying, managing, and supporting all major smartphones and other devices across multiple mobile platforms and operating systems. VMware AirWatch offers companies with unprecedented device choice without compromising the security and management of mobile fleet by implementing a flexible BYOD program from one central management console. The company provides a flexible model for asset management, policy enforcement, and for distributing profiles, apps, and content, based on device ownership type. Under VMware AirWatch's BYOD program, enterprise's employees can easily enroll their devices without help from IT. The company also allows customers to avoid the business risks that are presented while allowing employee-owned devices to access corporate content by customising 'Terms of Use' agreement. This way, employees are better informed about what they are allowed to do with the device.
Not only ensuring corporate privacy, with VMware AirWatch companies can protect employee privacy as well by customising privacy policies based on device ownership. By utilising VMware AirWatch Container, an enterprise-grade solution, firms can ensure complete separation of corporate and personal data on a device, security of corporate resources and complete employee privacy. On the next stage, administrators can remove access to corporate email, Wi-Fi, and VPN when an end user un-enrolls or leaves the company. This way the company enables customers to perform an enterprise wipe without effecting personal content on the employee device.
VMware AirWatch has unprecedented access to world's leading companies in several marketplaces; such as education, legal, finance, insurance, healthcare, hospitality, retail, transportation, and more.
One case in highlight is, a leading healthcare provider in U.S. Intermountain Healthcare wanted to migrate away from BlackBerry for device management. In doing so, the client needed the ability to manage multiple operating systems on a single platform, meet healthcare compliance requirements, and maintain the necessary level of security and availability. Upon implementing VMware AirWatch's BYOD program, Intermountain Healthcare achieved higher flexibility and cost savings, met compliance and regulatory demands, such as HIPAA and accessing electronic protected health information, and could maintain advanced security successfully.

The success of VMware AirWatch lies in its several aspects, such as advanced integration in partner ecosystem, standard development platform, broadest mobility solution set, multi-tenant and highly scalable architecture, and flexible delivery on both clouds and premise. Being a Gartner recognised global Enterprise Mobility Management solution provider, VMware Airwatch has recently launched several new products, like AirWatch 8 and ACE.

Marking its print across the globe, VMware AirWatch has expanded its presence in the Asia-Pacific region by embracing the rapid evolvement of mobility in the region. The AirWatch EMM platform for Asia-Pacific includes localised sales and support with multilingual AirWatch solutions in Japanese, Korean, Simplified Chinese, and Traditional Chinese for all aspects of the user and administrative experience, including the administrative console, AirWatch agent, enrollment process, applications and app catalogues, self-service portal, AirWatch Browser, and AirWatch Content Locker. "Asia-Pacific is an important mobility hub, and our growth in the region is a response to the massive demand for scalable enterprise mobility management and security solutions. VMware's established operations and channels provide an advantage for our expansion plans as well," says Jeff Baum, Vice President and Managing Director – APAC, VMware AirWatch.