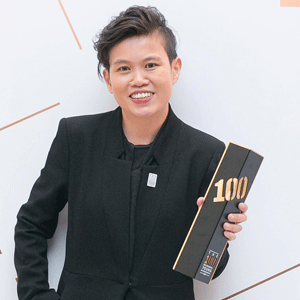 Jen Yong, Founder & CEO
In today's era of internet and mobile technologies, enterprise mobility is key for business success. However, applications and data integrity, as well as global software update delivery remain the biggest predicaments for every company that is adopting mobility. Entrepreneur Jen Yong, with her deep industry experience in the area of mobile technologies, understood very early that mobility-based secure enterprise solutions are crucial to stay competitive, which prompted her to lay the cornerstone of SYNDES
®
Technologies. "We offer Enterprise Mobility Management (EMM) solutions to ensure employees stay productive, and compliant with corporate policies," says Jen Yong, Founder, SYNDES
®
Technologies. With the ability to centralize, customize, and secure corporate mobile data, applications, and devices, SYNDES
®
allows clients to control and protect data, and configuration settings of all mobile devices in their enterprise network. Through this approach clients reduce support costs and business risks on a massive scale.
The company's EMM solutions maintain the crucial balance between security control and efficiency of both the corporate-owned and the employee-owned (BYOD) devices in an organization. The solutions are built to carry out Over-the-Air (OTA) distribution of applications, data, and configuration settings for all types of mobile devices, tablets, ruggedized devices, and computers. Having the ability to manage multi-operating devices, multi-vendors, and multi-form factors under a single mobility ecosystem, the solutions ensure businesses achieve secure mobility management. By connecting all types of operating systems within a single management console, these solutions integrate mobile devices, apps, IoT endpoints, and back-office systems into one system.
We offer Enterprise Mobility Management (EMM) solutions to ensure employees stay productive and compliant with corporate policies
"Our Over-the-Air (OTA) app solution turns the mobile device into a purpose-built appliance, where it allows the phone to respond as a professional kiosk for specific app usage optionally," says Jen.
The company's technology simplifies real-time tracking of the mobile devices. Through a centralized cloud portal, SYNDES
®
allows organizations to track and trace a device's whereabouts using GPS. What is more, allaying the concerns of time and cost involved in addressing the technical problems, the company's intuitive technology enables engineering teams to perform remote support over the Internet to the specific device, when necessary.
SYNDES® ties all these capabilities into their solutions through their well-defined approach that focuses on productivity, mobility, and security. The mobility solution allows companies to deploy corporate apps and services with quick access, while helping them tailor devices to their brand's identity by featuring corporate logos and animations. The productivity solution automates B2B device provisioning and enrollment processes, skipping unwanted setup steps and diving straight into workflows. The company's security solution checks compliance statuses of the mobile devices and tracks the location of devices in real-time. In case a mobile device is lost or stolen, the solution remotely locks down the lost device and remotely erases all of the sensitive data.
As an implementation highlight, SYNDES
®
helped a large corporation in solving a major obstacle in their workflow. The client had more than a thousand corporate devices across Malaysia and had various branches and business units. They had been trying different ways to implement their corporate apps at large scale while keeping the cost at a minimum, but to no avail. However, with the implementation of an EMM solution, the company managed to improve the productivity.
With the zeal to stay abreast of the latest developments across industries, SYNDES
®
aims to optimize the productivity and functionality of their clients' vast communication networks while minimizing costs and downtime. "We aim to further expand our solutions capability across platforms— like laptops, printers, and smart watches—and eventually embed them into device firmware to develop IoT solutions," concludes Jen.