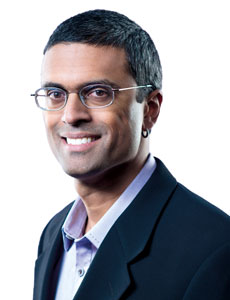 Ojas Rege, Strategy Officer
When the iPhone made a grand entry into the mobile device space in 2007, and global audiences celebrated its arrival as the new high point in consumer technology evolution, two futuristic minds dared to think beyond. Suresh Batchu and Ajay Mishra had the conviction to take this new rage of mobility to the enterprise: the idea was to make enterprise workflow smart. Close on the heels of the release of the first-ever iPhone, they co-founded MobileIron. And with the first introduction of encryption-based iPhone and iPad, in 2009 and 2010, respectively, MobileIron already had its fully functional enterprise mobility management (EMM) platform ready. With the subsequent emergence of Android platforms and the exponential growth of cloud platforms which democratized data access, MobileIron became a gold standard in the EMM space. Today, as enterprise mobility becomes the battle cry for companies to stay competitive, MobileIron has created innumerable success stories, delivering more than 16,000 clients with a trusted digital workspace to stay nimble and mobile.
In today's digitally-driven workspace, security that's agile and easily adaptable is the Holy Grail for the enterprise. Uniquely positioned to fill the security pitfalls in this modern work environment, MobileIron's EMM platform provides application and data security to modern operating systems, with a powerful set of capabilities to improve data security.
Ojas Rege, Strategy Officer, MobileIron, explains, "While mobile is creating new user experiences for people to transform workflow in an organization, cloud has become the enabler for the developer community to build services faster." In the world of modern work, employees have the liberty to choose their mobile devices, tools, and cloud applications to make faster and better decisions to drive business outcomes. However, fast-moving businesses need to ensure that a company's cloud services and the devices that the employees are using are secure.
"The modern work paradigm is complicated," asserts Jonathan Andresen, Senior Director of Marketing, Asia- Pacific, MobileIron, pointing out that data today is no longer limited to data centers and corporate-owned devices. The data perimeter has broadened and they reside both on corporate and consumer apps and cloud storage repositories. This requires organizations to have a flexible security approach while embracing mobility and cloud services, as username and password protections are no longer enough to shield the data from bad actors. "That is where we come in, to provide a secure foundation for modern enterprise work."
The Shift to Modern Work
The EMM solutions offered by MobileIron are built on a simple architecture that allows enterprises, IT administrators, and end users to manage their business on-premises or in the cloud.
From the outset, we have taken a nuanced approach to ensure that mobile security is invisible to end users, so they can have a more productive mobile work experience without losing data
For organizations running their applications in the cloud, the company ensures that the EMM platform can scale to over a million users or tenants. On the other hand, for on-premises customers, MobileIron provides a virtual appliance for IT administrators to effortlessly plug and play the solutions. IT can seamlessly connect users to backend resources, such as directory services, without having to worry about database or systems management.
All an end user has to do is download MobileIron's client application either from the Apple App Store or Google Play. Once logged in, Wi-Fi and VPN are automatically configured with security in place, and business apps are securely distributed to the end user. "From the outset, we have taken a nuanced approach to ensure that mobile security is invisible to end users, so they can have a more productive mobile work experience without losing data," explains Rege.
With the state-of-the-art secured and scalable EMM platform, MobileIron empowers highly regulated industries such as government, banking, and healthcare to operate in a modern work environment. A case in point is Queensland Police department, Australia, which wanted to adopt iPads and move away from bulky computers and radios for accessing information in the field. Deploying MobileIron's EMM platform, the department's IT team could ensure that the devices and the apps were used only by authorized personnel, savings many work hours per shift for field police officers and so enhancing the efficiency of the police force. MobileIron fosters expectional support facility to organizations across industries to transition to this new world of modern work, supporting a wide range of enterprise business transformation initiatives.
Secured Experience—from Endpoint to the Cloud
"We address five key areas for the organization to have a seamless and secure experience from endpoint to the cloud," asserts Andresen. MobileIron's vision of trusted workspace deals with creating a boundary between private information and corporate data. Maintaining this isolation at the endpoint and across the network, MobileIron ensures that business data as well as employee private data is protected. As the next step, untrusted endpoints and applications are blocked from accessing corporate data whether it's in the data centre or in the cloud. What's more, the company's most recent investment is in detecting and remediating new types of threats from attacking mobile users across devices, networks, and applications. MobileIron Threat Defense, the company's latest solution, leverages the power of machine learning to detect cyberthreats targeting mobile devices to steal data. "We define the known and unknown threats and block them quickly," adds Andresen explaining that time-to-detection is a critical component of mobile security.
"Our Mobile Threat Defense is done on the device, ensuring faster response time and protecting a device even if it is disconnected."

"Like yin and yang, there are two sides to security— reactive and proactive," delineates Andresen. While proactive security is the measures taken in advance to secure the data, reactive security needs to be fast to stop the cyber criminals from stealing corporate data through a compromised device. The company's MobileIron Threat Defense solution incorporates these elements of security and enables organizations to detect and take immediate actions on new threats that can potentially affect devices, applications, or networks. The solution allows IT administrators to take immediate action to notify users of a threat or deny access to a particular app, depending upon the risk level of the threat. MobileIron Threat Defense provides an end-to-end security model against cyberattacks on both corporate and employee-owned mobile devices.

"We define the known and unknown threats and block them quickly"

Acknowledging that technological advancements and the paradigm of enterprise mobility will continue undergoing rapid evolution, MobileIron is busy making new additions to its solution suite. One such inclusion, in the wake of cloud computing, is MobileIron Access, a solution that enables single sign-on, multi-factor authentication, and conditional access across all applications on a device for instant business data access to cloud services. "With MobileIron Access, our aim is to deliver great user experience combining cloud security with endpoint security," informs Rege.
Simplifying Complete Transformation

With the sheer belief that transformation toward modern work has just begun, MobileIron's passionate workforce continuously strives to solve emerging issues in the enterprise mobility arena. With advanced technologies already in place to support business transformation, CIOs today want to embrace mobility swiftly but are restricted by the inertia within the organization in terms of mindset and processes. "We are assisting companies to gear up for the transformation by helping them acquire the speed, agility, and mindset needed to fast-track their modern work strategy," says Rege.

Today, MobileIron has built a powerful, best-of-breed mobile and end-user computing platform for modern work, with a leading position in Australia and Japan and an expanding footprint across the wider Asia-Pacific. With reference to MobileIron's reach in the Asia Pacific, Frédéric Gillant, VP of Sales for APAC, MobileIron, states, "We are helping enterprises secure their confidential data with a modern security platform that provides a seamless mobile and cloud user experience to support business transformation." MobileIron is optimistic about the opportunity to help enterprises embrace innovation through a unique combination of mobility, security, and cloud.


MobileIron News

MobileIron Offers Complete Mobile Phishing Protection to Secure the Everywhere Enterprise