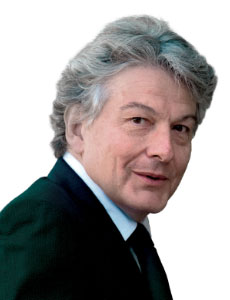 Thierry Breton, CEO
There was a time when enterprise mobility was limited to a Blackberry push mail, but things have changed drastically today. With the rising popularity of smartphones, along with improvements in mobile technologies and the growing availability of applications, employees are accustomed to an 'on the go, always connected' world, and they expect the same degree of flexibility from their workplaces. Hence, it's no longer surprising to see doctors with mobile EMRs interacting with patients, retail workers using tablets on the plant floor to keep track of inventory, or manufacturing professionals accessing high-end 3D graphics applications on their mobile devices. Enterprise mobility empowers employees to conduct business from anywhere, increase productivity, reduce operational costs, and inspire new ways of customer engagement. Clearly, mobility is here to stay, and according to forecasts from IDC, the mobile worker population will increase to 105 million by 2020. The promises of enterprise mobility sound impressive in theory, but for the organizations, it brings a set of whole new challenges. IT divisions have to effectively integrate new-age devices from phones to smart glasses with legacy infrastructure to keep up with employee requirements and business diversity. Besides, in the era of connectivity, security concerns are never far behind, and again it's upon the cybersecurity team to constantly combat threats, which entails mobility.
In such times, Atos, a frontrunner in IT services and digital transformation, brings to the fore Atos Workplace Mobility, which is a device provisioning and lifecycle management service. Atos Workplace Mobility redefines device management through automation and standardization, and the result is a consistent and secure user-focused experience for mobile workers. With Atos, rather than managing mobile devices, IT teams can focus on higher-value priorities that help differentiate a business in the market. Behind Atos' leading market position and cutting-edge solutions is Chairman and CEO of the company, Thierry Breton who was the former Minister for Economy in France and a professor at Harvard University. Given such bonafide experts are leading the company, it's easy to see why Atos is the number one company in Europe with a global footprint in over 73 countries. The Atos group is also the Worldwide Information Technology Partner for the Olympic & Paralympic Games, and all their services and competencies are underpinned to drive scientific and technological excellence.
The New Mobility Ecosystem
As such, Workplace Mobility is a suite of collaborative, secure, intelligent work tools that are billed per user as a service.
All mobile devices used by an organization in partnership with Atos, belong to a controlled ecosystem. This makes it easy to process automation, provide standard levels of support, and even predictive analytics
At the onset of any project, Atos collaborates with a client to put together an online catalog of devices and services for workers to shop. This catalog provides a cost-effective choice of devices that fit within the workplace mobility ecosystem. Choices include Windows 10, iOS, and Android devices. After this step, ready-to-use devices are delivered to an organization with profile-specific services such as asset tracking, security, and controls that are preinstalled. With only an Internet connection and single sign-on, employees are self-sufficient and ready to work securely. All devices are enabled with best-in-class features such as web and video conferencing as well as messaging, voice over IP, and email that a modern-day workforce needs. Employees can also automatically install or reinstall any applications according to their requirement. In every respect, Atos Digital Workplace gives workers the tools they need while ensuring consistency of experience, outstanding agility, and rigorous cost control.
The fact that all mobile devices used by an organization in partnership with Atos, belong to a controlled ecosystem makes it easy to process automation, provide standard levels of support and self-service, and even predictive analytics. The service also includes device refreshes at predetermined intervals. Such regular updates ensure that a gadget is monitored, secure, and policy-compliant at all times. Moreover, keeping in mind that security is one of the biggest challenges companies face when it comes to mobility, the tools are embedded with end-to-end security and include governance and managed services for all endpoints as well as conditional access for certain persona types.
Apart from a leading-edge solutions portfolio, Atos also provides omni-channel customer support. Clients can always log onto a self-service portal and avail help in case they face any issue with their device. The company also has options for advanced helpdesk support, where users can reach out to AVA, the Atos Virtual Assistant, or download the OneContact app for 24-hour support within reach. But that's not all. In case a client is looking for more strategic services, Atos provides industry-focused digital workplace consulting regardless of their current mobility environment.
The Future of Work
Today, Atos caters to the needs of millions of people in some of the world's largest organizations as their solution allows firms to retain control, remain secure, reduce cost and complexity, and enhance the productivity of the workforce.
To better understand Atos' unique value proposition, the case study of a nuclear power plant and how they leveraged Workplace Mobility is a befitting example. With hundreds of short-term contractors that worked on a 24-month basis, the plant was facing significant challenges in managing their workforce. They even had to engage in meticulous regulatory checks every two years when a fresh batch of workers came in, and all these data management procedures were paper-based. With Workplace Mobility, the client could keep track of all their workers while offering a consistent, secure, and user-focused experience. All devices provided by Atos came preconfigured with the contractors' needs, were updated automatically after two years, and also allowed the client to automate all regulatory procedures. Moreover, Workplace Mobility allowed managers access to real-time insights into the productivity of workers. At the end of the day, the client was able to minimize manual data entry, create an e-audit trail, as well as significantly boost the efficiency of its employees.

Workplace Mobility also allowed a large retail transportation company to embrace digital transformation; here is how. The client was growing significantly across all of its business lines. The next step was international expansion, but it was hindered by disconnected business processes, operations, and systems. They needed a technology platform that would continuously optimize, automate, and enhance business services to improve the end-user experience. Atos' comprehensive subscription-based, device-as-a-service model, was the apt fit for the company's growing needs. With a third of the transportation company's legacy environment already aged out of support, a refresh was unavoidable, but Atos was able to assume the financial risk of upgrading the entire environment—90,000 devices across 9000 locations. Leveraging their strong partner network, for this specific engagement, Dell Technologies offered Atos the best pricing for tablets, laptops, desktops, and printers to be used at the retail branches. Atos also offered the client favorable terms and fees for all services, price certainty and inflation protection included in base charges, and a foolproof mechanism for adapting prices to the fluctuating volume of services.

"Atos Workplace Mobility redefines device management, and the result is a consistent and secure user-focused experience for mobile workers— despite where they are working"

It can't be denied that mobility is the way into the future for businesses and in the days to come, experts believe that global enterprise mobility market is estimated to grow to $500 billion by 2020. There will be a significant surge in the number of people connected to the mobile and in every step of the way enterprises can expect nothing but the best when it comes to mobility management from Atos.
- Selena James
August 01, 2019