The Cognitive Enterprise: Reinventing
By Lula Mohanty, General Manager, IBM Global Business Services Asia Pacific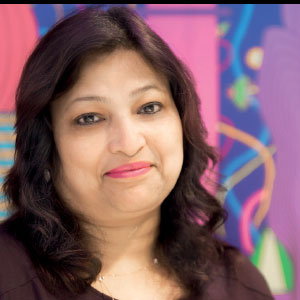 Lula Mohanty, General Manager, IBM Global Business Services Asia Pacific
Business leaders in every industry are faced with enormous change, driven by exponential new technologies, changing industry dynamics, deregulation and an uncertain macroeconomic environment. The combined impact of AI, automation, blockchain, 5G and other new technologies is reshaping the underlying business architecture for every organization, across all industries. It is giving rise to a new business model – the Cognitive Enterprise. At IBM, we see many of our clients already on this journey, taking bold steps to use their incumbent advantage and reinvent their organizations for this new era.
For well over a decade, the focus has been on the "outside-in" drive of digital transformation, powered by the power of the Internet, mobile and social technologies to reach customers in new ways and improve their experience. This digital reinvention isn't going away – businesses want to be increasingly digital, and that's here to stay.
However, companies are now also reinventing just as aggressively from the "inside-out"–applying technologies like AI and blockchain, and leveraging their internal and external data to generate new insights and transform their processes. They are tackling the journey of shifting their applications and infrastructure from legacy to a new, hybrid cloud environment.
As part of this process, companies are placing bets around the creation of business platforms. Business platforms are an organization's basis of differentiation, combining their wealth of proprietary data with cognitive workflows and differentiated expertise to drive competitive advantage.
The Cognitive Enterprise – the company of the future –is composed of a core or primary business platform, supported by other secondary business platforms, mass consumer platforms and technology platforms as needed. By placing their big bets on a business platform and starting the journey to become a Cognitive Enterpise, companies have the opportunity not only to attack and secure new markets but also to restructure their cost bases for the long term, with a possible significant payoff to their bottom lines.
For businesses willing to embrace the Cognitive Enterprise model, the possibilities are astounding. Interestingly, though, companies are finding that the biggest barriers to progress are their own people and culture. The IBM Institute for Business Value's most recent C-Suite study revealed a significant shift in the return of people as a central preoccupation of C-suite leaders. People skills, the hiring and re-training of talent, was the biggest single riser in the survey, jumping from fifth to third, and reaching levels roughly equivalent to technological factors (61% to 63%) in importance. (Source: IBM IBV 2018 C-suite Study).
To address the challenge of skills and culture, companies are looking to approaches like the IBM Garage, the methodology to innovate scale and ultimately make the Cognitive Enterprise possible. This methodology sees diverse teams of IBM expert's partner with clients to apply purposeful technologies through modern ways of working, allowing them to quickly create and scale new, innovative ideas that dramatically move a client's business towards digital leadership.

There are seven success factors at the heart of the transformation to a Cognitive Enterprise:

1. Use Platforms to Unleash Digital Darwinism: business platforms are being built for competitive advantage and it's vital to apply right strategic criteria to choosing platform. Leaders leverage their deep expertise and accelerated agile approaches to build winning platforms.

2. Leverage the Incumbent Advantage in Data: data can be integrated and curated to drive business platform performance. At the heart of cognitive workflows is trust and avoidance of bias, and data ownership and management will play an important role.

3. Architect Your Business for Change: the intent of the platform will drive the target operating model of the Cognitive Enterprise. Enabling architectures – agile, flexible and open – will provide a practical frame to make progress.

4. Redesign Company Workflows Around AI: humanize customer-facing workflows and allow for self-learning operational workflows. Platform workflows will be open and enable straddling ecosystems and networks.

5. Get Agile, Change Fast and Build Things: Agile is not just about technology. Align pervasive agile activities to platform intents and create an operational view to remove bottlenecks and create accelerative approaches.

6. Reinvent Your Workforce to Ignite Talent: ongoing learning is required by the evolution of processes into workflows. Be proactive with your workforce and enable transformation to new skill groups, agile teaming.

7. Win with Trust and Security: ensure bias-free automation and algorithms, protect workflows and deliver expertise and customer experiences with integrity and values.

Some organizations are already making great strides to become Cognitive Enterprises. Their experiences help chart a path to this exciting, but challenging, future that offers opportunity for incumbent organizations to carve out a space amid new entrants and disruptors.

Bestseller, an India-based international fashion company with a range of 20 brands, 2,700 exclusive stores and 15,000 multi brand outlets, worked with IBM to improve profitability and reduce unsold inventory by introducing explainable AI. The company also streamlined operations with Rapid Image Cataloguing, and helped customers make better choices with the use of Cognitive Mirror, a smart mirror powered by AI.

Future Group, India's largest integrated national retailer, partnered with IBM to reduce electricity consumption and spend by 10% across all operations. This achievement was made possible with the IoT-driven solution Green Store, which analyses data on monitored ambient conditions and information on external data, such as weather, to automatically adjust energy use in real time, while optimizing patterns over time and across facilities. In addition to lowering electricity use, Future Group has reduced carbon emissions by an average of 15%.

Emerald, India's largest gold manufacturer, has partnered with IBM to use AI to streamline its manufacturing process and create more innovative designs. In addition to enabling a faster time to market for new designs, the AI aided design process improves productivity and reduces costs.

The major enterprises of the world have the distinct advantage of their core processes, proprietary data, business networks and expertise. The emergence of the Cognitive Enterprise presents a unique opportunity to harness these capabilities to sustain these organizations into the next generation and reinvent them for a new age. This is not a passive ambition, but one which requires boldness in the selection of platforms, full embrace of new technology potential, and profound reskilling of people and teams at all levels.