Freeing The Enterprise
By Sharon Samson, Head of Enterprise Mobility, ANZ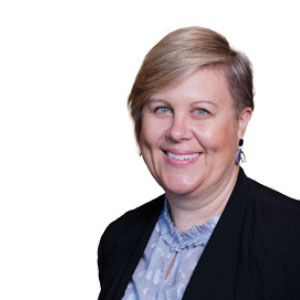 Sharon Samson, Head of Enterprise Mobility, ANZ
We've never seen the breadth and pace of change in the workplace that we're experiencing today. It has made for rich discussion— and a growing industry—as people try to predict "the future of work". There is a smorgasbord of technology available, however there's always a risk that one's eyes are bigger than their plate. I have found it pays to take a moment and assess the organisation's appetite.
The 'Human' Focus
ANZ has undergone a tremendous organisational transformation in the past 24 months. We have adopted what we call our 'New Ways of Working' across many parts of our bank—a lot of people think it's code for agile but it's much more than that.
We seek to be a simpler, stronger, and more productive bank. A big part of that is 'delivering a great customer experience'; ensuring people have the technology they need, when they need it, wherever they are. And we know this to be true for our employees as well as our customers.
Human centered design (HCD) provides a foundation for creating great experiences at ANZ. And we seek to engage, communicate, interact, empathise and stimulate our workforce to uncover their core needs and possible solutions.
Flexibility and freedom are big and recurring themes in every future of work discussion. Our challenge has been to properly understand the different ways our people work. We're using research and fact-based conversation to make the changes we anticipate will help people find 'their zone' and perform to their best. This is how enterprise mobility helps drive superior customer outcomes.
Play to Your Strengths to Work Smarter
Recently, we moved to a commodity-based device procurement and lifecycle management model for our corporate devices. We refer to this as 'ANZ device as a service' and thanks to our trusted vendor partner we're able to offer products, support and maintenance in a single monthly fee. These are their strengths.
The benefits include lower TCO, more predictable service levels, and higher employee satisfaction. We believe the biggest benefit of an 'as a service' approach is that it allows us to focus on what we're here to do i.e. enabling our employees.
Our focus is our Enterprise Mobility Management (EMM) ecosystem. Through it we're working to create flexibility and freedom for our employees—the biggest challenge today continues be the need to secure and manage data. It's key to both the employee and the enterprise—both from a security perspective but also in terms of usability.
Continued advances in device policy, identity access management and containerisation of data and applications via the EMM ensures it will continue to remain our main focus.
Employees continue to be the driving force of creativity, innovation, and progress in the enterprise
Flexibility and Choice
Enterprise mobility is a key enabler of ANZ's New Ways of Working. We have five generations amongst our ANZ workforce. Work styles and practices, preferred and native to any one generation, may not be for another. Some prefer to choose their own device as opposed to the company issued selection. Choice and personalisation has become the new super power for enterprise mobility.
We continue to see a steady increase in the adoption of tablets. A recent Forrester study reported an average of 46 percent of company-owned laptops are either ultraportable, convertible/hybrids, touchscreen laptops, or rugged devices. At ANZ the variety of hardware in our environment has increased as bring your own device (BYOD) continues to be a popular choice.
Interoperability has become a driver for choice of device. With employees enjoying the productivity benefits of companion hardware sets, offering sleek handoffs for answering calls, file sharing or writing emails. Best demonstrated by Apple through their seamless experience on all devices, Mac, iPad, and iPhone. Wearables continue to move towards the enterprise. Digital health and geo-location features for well being and safety respectively being ones to watch.
Facilitating this for our people has broadened our understanding of how people chose and embrace different technology. These insights have proved valuable when played into the customer mobile offerings (and vice versa).
Apps to Enable not Disable Productivity
What makes employees happiest at work is their ability to get meaningful work done every day. Applications play a significant part their day-to-day experience. With plenty of application types—native mobile, traditional PC, virtual, web-based, or software-as-a-service (SaaS). The challenge is to select applications wisely, monitor adoption and satisfaction regularly and maintain a selection that are both used and loved.
Our mobile first strategy sees us take into account the constraints and user browsing behaviour on mobile devices. Our bespoke applications must be responsive across all form factors, most importantly mobile. We use analytics to monitor app performance and adoption. This way the ecosystem can support an informed, data-driven approach to the application lifecycle including decommissioning. The shift towards SaaS and web based apps in recent times has been fueled by the maturing of technology such as APIs, web component libraries, and security frameworks. As a result, ANZ employees in the field are using more web apps today to interact with our customers than ever before.
Our adoption of agile at ANZ has led to increased focus on teaming and what technology best supports collaboration. Video conferencing, screen sharing, real-time enterprise task planning/ sequencing, chat and document management are but a few. Our employees enjoy the benefits of enterprise social networking as we collectively solve problems. Our workforce has become more curious and more open to learning than ever before.
With this veritable feast of software offerings, the challenge is striking a balance between freedom of choice for employees and the need for a common set of tools to facilitate collaboration. The choices aren't simple but it becomes easier once collective agreement exists for prioritisation informed by thorough research of user needs.
Accessibility for All
Accessibility remains a key focus area at ANZ. There has been a steady stream of new features to support accessibility. We have a mature set of accessibility development standards, testing tools, and practices across the enterprise. Our industry partners continue to work with us to improve accessibility features in their products as we strive to be an employer of choice for all.
Employees continue to be the driving force of creativity, innovation and progress in the enterprise. Technology drove the third industrial revolution and it is empowering employees who are poised to drive the fourth. While machine learning, AI and the IoT are all likely to play a part, the key to enterprise success in future involves the human perspective: ' What is the best balance for our people? How will the technology best support them? I wish you well on your journey to free the enterprise.