Enterprise Mobility Solutions - A Holistic Way Forward
By Dr. Sekar Jaganathan, Director, Digital Strategy, Kenanga Investment Bank Bhd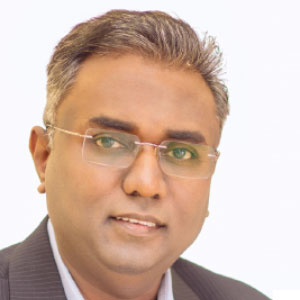 Dr. Sekar Jaganathan, Director, Digital Strategy, Kenanga Investment Bank Bhd
A man hands over a package at the local post office in Kuala Lumpur. A bar code is assigned and the necessary data is entered into a desktop computer. The package is delivered to an address in London and the mailman there uses a hand-held device to get the recipient to acknowledge receipt of the package. Throughout, the man in Kuala Lumpur has been tracking the package using his mobile phone. This is an example of enterprise mobility where the entire business is carried out using a variety of devices and applications via a wireless network.
This trend of enterprise mobility grew alongside the development of devices. Early mobile devices included PalmPilot, BlackBerry smartphones to the first iPhone, Android and Cloud Computing. Today, enterprise mobility defines businesses and organisations. It means that whole businesses can now be run online with many components of the entire process being mobile.
For employees, the concept of working in an office with fixed hours has been turned on its head. Instead, employees now work flexible hours and, more often than not, from outside the office. Moreover, previously, being an employee meant working for one employer. With enterprise mobility, an employee may work for many employers and in his own time.
At the heart of enterprise mobility are the devices and apps that are used by the employees. The differences between one employee to the next, is about who obtains these devices. At one end of the scale is the employer who does not invest in the devices, but asks employees to bring their own devices; hence, the acronym BYOD. Then there are employers who invest in the devices for their employees. A new trend is the middle ground and known by the acronym COPE. This stands for corporate-owned-personally-enabled devices. With COPE, the employer buys the devices for the employees, but with the understanding that the employees will use such devices for both business and personal tasks.
At the heart of enterprise mobility are the devices and apps that are used by the employees
To manage all these devices and applications, many businesses today invest in what's called enterprise mobility management (EMM). This involves a set of people within an organisation who look into processes and technology focused on managing mobile devices, wireless networks, and other mobile computing services in a business context.
The exciting road ahead for many businesses is that enterprise networking is predicted to expand with the 5th generation of mobile communications, or 5G. With such high-speed connections, there is no limit to innovation for businesses. In the healthcare industry, it'll be possible for patients hospitalised in one country to consult with a doctor in another. Movies, which used to take hours to download with 3G and minutes with 4G, will now be accessible within seconds. Customers are unlikely to complain of a bad connection when talking to someone on their mobile devices.
The main challenge for the foreseeable future for businesses looking to invest in 5G will be that not every business will transition to 5G immediately. As such, it may still be tedious to complete business when one organisation has 5G and another is still not compliant.
That said, with the advent of AI, many employees will have AI-enabled mobile devices in hand. This will aid enterprise mobility as employees will be more efficient in how they do work. Since a lot of the AI technology will be geared towards camera and video enhancements, such devices can be made more secure as well.
It's this concern for security that is also driving the trends for the future. With cyber security threats on the rise, the fastest trend for enterprise mobility is to invest in reliable software to protect devices that are vulnerable. In particular, with more employees bringing their own devices, employers fear that these employees are finding their way around existing security controls within the company to gain access to corporate networks, applications and data.
The move to protect employers began with mobile device management software which allows the EMM team to clean devices remotely and controls what users can and can't do on their phones. Naturally, employees were not particularly happy about handing over their devices to the EMM team. To counter this, mobile application management systems were developed to manage specific apps without controlling the rest of the device. Today, these have become commonplace and are included in all forms of EMM suites.
Keeping all this in mind, the trend now is for businesses to invest in unified endpoint management (UEM) which allows the management of all devices from desktops, printers, IOT devices and wearables from a single management platform. This allows for more savings for employers and the ability to secure all the devices from one point.
Ultimately, as mobile devices continue to evolve, so too will the trends in enterprise mobility. There will be transformations on the digital working platforms everywhere as more software is created, developed and implemented. It is an exciting time to watch how businesses will evolve in a holistic way to respond to such transformations.